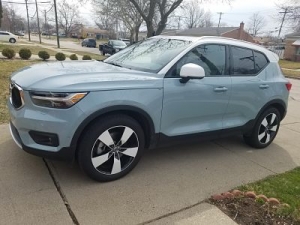 It could be argued that there are already enough vehicles in the compact luxury SUV segment, which has been growing like a weed in the past few years.
Good thing Volvo didn't listen to that school of thought, as their XC40 entry is one recent addition to the segment that delivers both on looks and performance, in addition to safety.

Read on for a full assessment of the 2019 XC40, which has the goods to disrupt this segment and achieve long-term success.

LOOKS
When I got my first look at the XC40, I immediately thought it was one of the sharpest looking rides I have seen in a long time. My test vehicle was a beautiful light blue color, with a white top and a long sunroof. The body was impressively designed with unique deep side lines. And to top it off, a nice little Swedish flag is attached to remind you of Volvo's heritage.
From a distance, it almost reminded me of the look of an classic car from the 60s, a bit of a retro throwback.
Having a strong look is important in this class, as everyone from Audi to Lexus to Infiniti comes with their A-game in terms of design.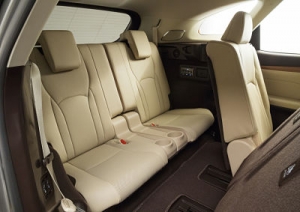 When Lexus debuted the RX in the late 1990s, it was one of the original creators of the crossover market that has taken over auto industry in the past two decades. Today, it feels like there's a new crossover announced every month, but it was a risk back in the day.

The move paid off, as the RX has been a top seller for Lexus for many years, leading sales charts in its class on a regular basis.

But something was holding it back from further success. Unlike some competitors, it only offered a two-row version (housing 5 passengers), and didn't have a 3-row option for people wanting some extra room for the little ones in back. That has changed with the arrival of the RX 350L option, which boosts capacity to 7 passengers.

How does the three-row edition of the RX measure up to other luxury 7-seaters? Read on for a full report.
More...
Hot Topic
1
2
3
4
5
6
7
8
9
10
11
12
13
14
15